Assessment and Planning Model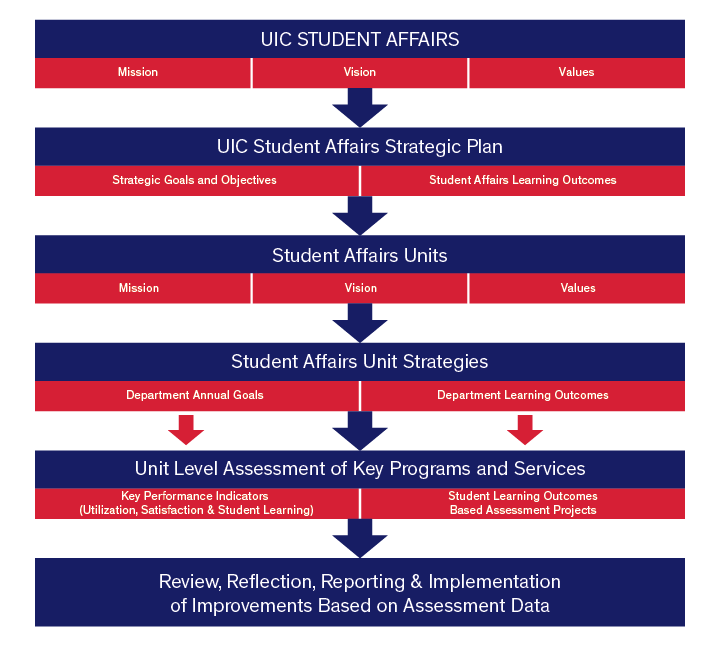 This model visually represents how assessment and planning are operationalized within the structure of Student Affairs. The overall work of UIC Student Affairs is guided not only by UIC's institutional mission, but also by our organization's mission, vision, and values, which inform how the collective efforts and how individual units' programs and services get delivered to students.
To advance that mission and vision, Student Affairs engages in planning by setting strategic objectives and annual goals. To further recognize and articulate our role in student learning outside of the classroom, UIC Student Affairs has developed a comprehensive set of student learning outcomes statements to ground our work.
Each of the units that report through UIC Student Affairs adopt the overall guiding mission of the organization and have developed their own more specific mission, vision, and values of their respective area.
The strategies to monitor and assess the ongoing efforts to support students throughout their time at UIC are focused on both organizational effectiveness and student learning at the unit level through the annual report process. The primary drivers of that work are through annual goals and the department level learning outcomes.
While goals might change annual, the core work of each unit is operationalized through key programs and services, which represent the overarching functions that define the unit. For each key program or service, the units report on three key performance indicators- Utilization, Satisfaction, and Student Learning.
Critical to this model and the goal of continuous improvement is reflection and meaning making of the data that is collected and how it can inform how to improve upon the programs and services that Student Affairs provides to the campus.